"Click Play To Learn More About Tooth Colored (White) Fillings"
Dental Fillings in Laurens, SC

When a tooth has a cavity or you need to replace a worn filling, a natural-looking white restoration can be a beautiful choice. White fillings have several advantages over silver fillings.
They are bonded to your tooth, making it stronger than if we used a silver filling.
We do not have to remove as much tooth structure as with a silver filling.
The bonding agent can insulate your tooth from extremes of hot and cold.
Completed quickly in a single visit
After we remove the decay, we build layers of the filling material (resin) directly onto your tooth. We use a special light to bond the resin to the tooth for strength.
White fillings can be a great choice to give you healthy teeth and a beautiful, natural-looking smile.


Tooth-Colored Fillings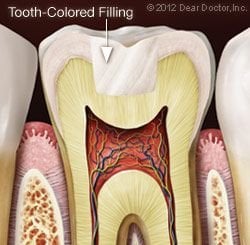 Composite — A popular choice for those who don't want their fillings to show, composite is a mixture of plastic and glass, which actually bonds to the rest of the tooth. Composites are more expensive than silver fillings, and the newer materials can hold up almost as long. Less drilling of the tooth is necessary when placing composite as compared to silver filling.


Do you need to treat a cavity or replace a worn filling? Confident Smiles of Laurens
offers tooth colored fillings to subtly repair your teeth. Call our Laurens, SC office
today at (864) 766-4636 to book an appointment!