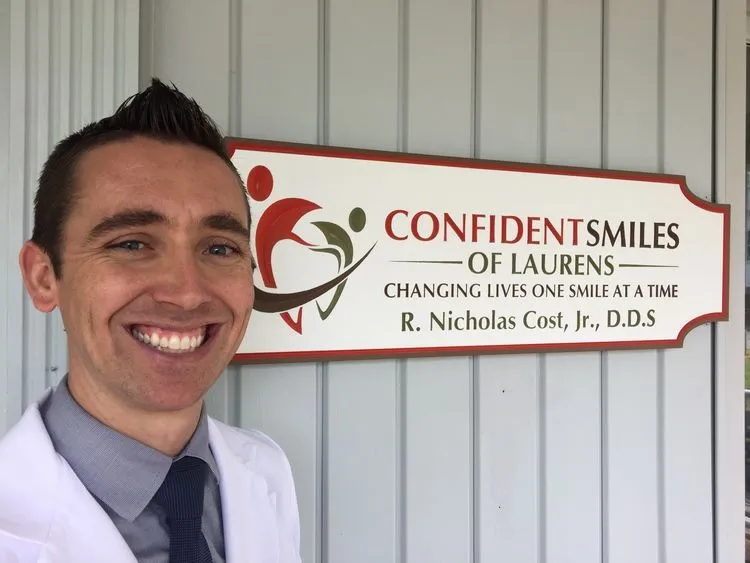 Dr. Cost grew up in a small rural area of Southeast Indiana near Cincinnati, OH. He is the oldest of five children, and he feels very blessed to have had two wonderful-loving parents who raised their family based on strong Christian values.
He graduated magna cum laude from Indiana University with a B.S. in Biology. While at IU he was very active in the Marching Band, where he met his wife Kirsten. He also was involved in 2 service fraternities, which provided community outreach within the community of Bloomington, IN. He went on to earn his D.D.S. from Indiana University School of Dentistry in May of 2008. While at IU School of Dentistry he placed on the Dean's List for academic achievement, earned the Dean's Silver Medal Award for outstanding National Board Scores, and had the privilege of being asked during his 4th year to be an instructor for the 2nd year dental students teaching them how to make beautiful crowns and bridges.
Since graduating from IU School of Dentistry Dr. Cost has joined the American Dental Association, the Academy of General Dentistry, and the South Carolina Dental Association. He has obtained over 200 hours of continuing education credits in areas such as cosmetic dentistry, orthodontics, TMJ therapy, Mini Dental Implants, and snoring and sleep apnea therapy. Dr. Cost loves learning, loves teaching, and loves delivering life-changing smiles.
Dr. Cost is married to his wife Kirsten of 10 years. They have been blessed with three beautiful children. He and his family love spending time outdoors, especially up in the mountains or down at the beach. Dr. Cost thoroughly enjoys helping patients achieve the smile that they've always dreamed of. He loves meeting new people in and outside of the office. He looks forward to meeting you, and hopes that you will soon join our big, happy dental family here in Laurens.